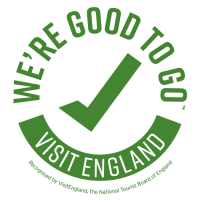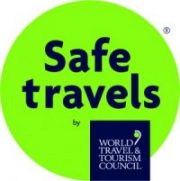 Following the relaxation of the rules these guidelines have been updated.
Hand sanitiser will be available and visible at the entrance to the B&B and the entrance to the dining room.  Please use the sanitiser on entering and exiting these areas.
Cleaning
The health and well being of our guests still remains our top priority.
We will be continuing our high standard of cleaning with additional attention to anti-viral cleaning to the EN 14476 standards to kill any envelope viruses.
Your room will not automatically be serviced during your stay.  However, we are happy to do so if you require.  On arrival we will advise you as to how you can obtain refills of your complimentary items.
Social Distancing and Wearing of Masks
We ask that you are still mindful of the 2 metre social distancing throughout your stay.
It is no longer a requirement to wear masks, however, you may still continue to do so if you wish.
Breakfast Service
We aim to provide our extensive menu as before but to minimise risk of contamination the various fruit/cereal options will be available on your individual table.  All hot items can be ordered from the menu and will be brought to your table.
There will, however, now be a small selection of additional items on the communual buffet sideboard.
Tables will be cleaned and sanitised following service.
Check In and Check Out
The keys for your room and the front door will be in your room and will have been sanitised before your arrival.
During your stay if you require our assistance please ring the bell located at the bottom of the stairs.
Any outstanding payments due will be processed via card upon departure using a sanitised card machine.
Cancellation of Booking due to Covid
Whilst we will try to be as accommodating as possible, should you need to cancel your booking due to covid our normal cancellation policy still applies.
Guests' Health
It is essential that you do not travel if you are unwell or are showing any COVID-19 symptoms.
If you develop suspected symptoms during your stay we ask that you immediately get tested and if positive you should return home.
If you are unable to return home and need to extend your stay, you will be restricted to your room. Food can be delivered to your door, however, nothing can be removed from the room until after departure.  The room will then be sealed off for 72 hours before being deep cleaned. 
You will be charged for the additional stay and services and any affected bookings.
Any other guests staying will be notified.
Should you have any further questions please do not hesitate to contact us.