CORONAVIRUS ACTION PLAN
Following the Government announcement we are now open. We continue to follow the guidance and will adjust our policy in accordance with these guidelines.  Below are measures we have put in place to ensure safe practices are adhered to.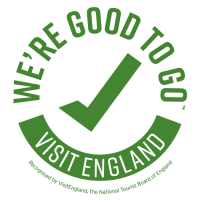 Existing Bookings
All existing bookings from 4

th

July onwards stand. We will contact you via email in the first instance should this change.
We will email you prior to arrival to update you and provide you with any additional information regarding check in procedures and expectations during your stay.
Cleaning
The health and well being of our guests remains our top priority. Our usual high cleaning standards have been updated to include a new risk based approach.
Our rooms will be deep cleaned, disinfected and sanitised after each stay.
All other public areas will be deep cleaned, disinfected and sanitised on a daily basis.
In the short term we have removed all soft furnishings such as cushions and throws to minimize the risk of contamination.
Your room will not be serviced during your stay. On arrival we will advise you as to how you can obtain refills of your complimentary items should you require.
Hand sanitiser will be available and visible at the entrance to the B&B.
Social Distancing
We ask that you adhere to the 1 metre plus social distancing rules throughout your stay.
Breakfast Service
Breakfast times will be staggered to ensure social distancing is maintained. This will be arranged with you upon arrival.
The service of breakfast will be offered from a menu printed for each room which will be disposed of when tables are cleared.
We aim to provide our extensive menu as before, however, to minimize risk there will not be a help yourself cereal/fruit buffet. These food items can be ordered and will be brought to your table.
Tables will be cleaned and sanitised following service.
Check In and Check Out
To ensure social distancing is maintained with other guests, it would be helpful if you could advise us 48 hours before check in of your estimated time of arrival.
Any outstanding payments due will be processed via card upon departure using a sanitised card machine.
Guests' Health
It is essential that you do not travel if you are unwell or are showing any COVID-19 symptoms.
If you develop suspected symptoms during your stay we ask that you immediately get tested and if positive you should return home to self isolate.
If you are unable to return home and need to extend your stay, you will be restricted to your room for 14 days. Food can be delivered to your door, however, nothing can be removed from the room until after departure.  The room will then be sealed off for 72 hours before being deep cleaned. 
You will be charged for the additional stay and services and any affected bookings.
Any other guests staying will be notified.
Should you have any further questions please do not hesitate to contact us.